17 июля в кино стартовала «Планета обезьян: Революция» — вторая часть ремейка фантастического киносериала о том, как приматы захватили Землю. Как и в первом фильме, одну из главных ролей вновь исполнил выдающийся британский актер Энди Серкис — его лицо привычно скрыто за многослойным гримом и спецэффектами. Релиз фильма — хороший повод рассказать об этом удивительном артисте, которого я без оговорок считаю настоящим актером будущего.
«Моооооояяяяя прееееееелееееесть» — знаменитая реплика в исполнении одичалого хоббита Голлума давно стала визитной карточкой кинотрилогии «Властелин колец». По иронии судьбы, многие поклонники кино до сих пор не знают, что образ уродца, шипящего эту фразу рефреном все три фильма, воплотили на экране не столько специалисты по компьютерной графике, сколько британский актер Энди Серкис. Для артиста перевоплощение в фэнтезийного героя стало первой большой ролью в кинематографе. И можно как угодно относиться к книге «Властелин колец», трилогии Питера Джексона или толкиенистам, увлекательно бегающим по лесу с деревянными мечами и щитами, но Серкису удалось создать один из самых запоминающихся образов в истории кино.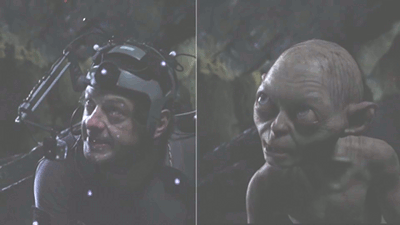 Мощь и игра Голлума в свое время настолько потрясли неприступных киноакадемиков, что те хотели выдвинуть британца на «Оскар» за роль серокожего отшельника. Впрочем, этого не случилось: консерватизм в итоге взял верх над здравым смыслом. Но тот случай доказал всем, что кино находится в предвкушении больших актерских перемен, одним из знаменосцев которых можно считать именно Энди Серкиса.
Биография артиста, как и его роли в кино, любопытна даже в сухом пересказе. Сын англичанинки и иранца армянского происхождения, он вполне мог быть прозаичным Андреем Саркисяном, но все-таки выбрал более звучный западный вариант имени. С юных лет Серкиса волновало изобразительное искусство и актерское мастерство, что в дальнейшем напрямую отразилось на его карьере. В институте он изучал метод Станиславского и мечтал играть в великом британском театре.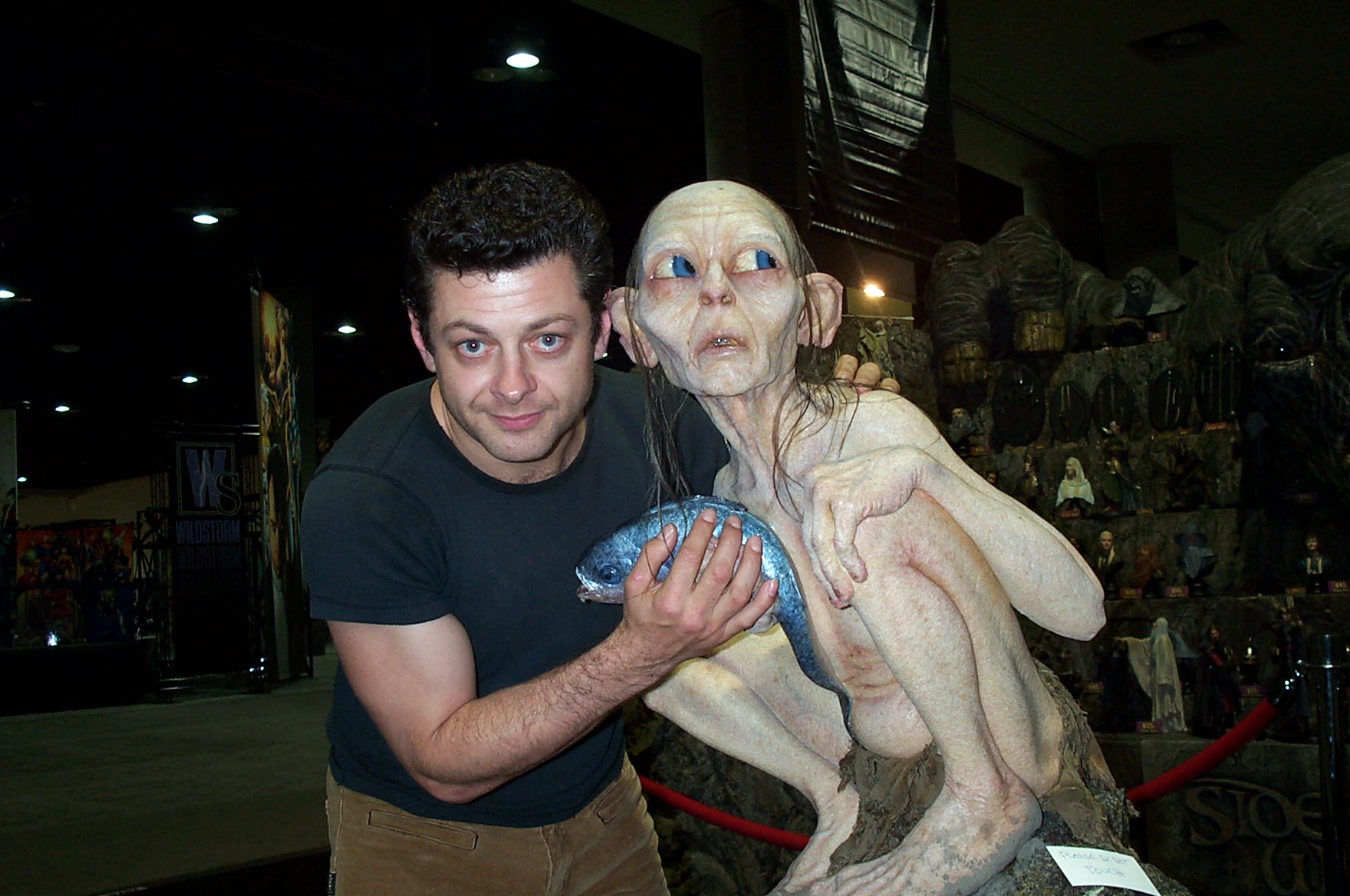 Обладая вполне заурядной внешностью и не самыми великими (как тогда казалось) талантами, Серкис долго и мучительно пробивал себе дорогу наверх, соглашаясь играть в короткометражках независимых режиссеров и на телевидении. Именно в одной из ролей на ТВ Серкис привлек внимание великого английского режиссера Майка Ли, который немедленно предложил актеру небольшую роль в собственном фильме «Кутерьма». А еще через два года случился «Властелин колец».
Перепробовав в первые десять лет своей карьеры практически все возможные актерские амплуа — от добродушных англичан до фриков — Серкис, как он сам признавался в интервью, никогда бы не подумал, что найдет свое кредо под маской из спецэффектов. Роль Голлума по иронии судьбы так и не превратила британца в суперзвезду. Серкиса до сих пор не узнают в лицо, пока он не начинает характерным голосом отыгрывать персонажа Толкина.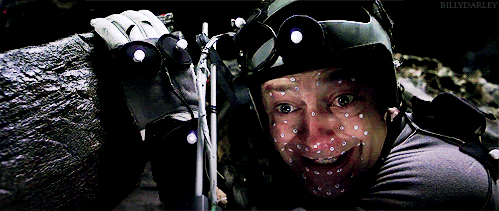 Но в случае с британским актером это вообще-то не очень важно: он стал первым большим артистом, который научился переигрывать графику. Конечно, мы с открытым ртом смотрели на динозавров в «Парке юрского периода» или, например, на огромную Годзиллу в дурацком голливудском фильме Эммериха, но к подобным героям всегда было вполне предсказуемое отношение — как к огромному эффекту или живописному взрыву, при появлениии которого кадр должен был рваться по швам. Голлум же, уступая огромным предшественникам в росте и мощи, был осознанно низведен создателями до роли рядового персонажа с выписанной ролью, репликами и мотивацией. Серкису нужно было стать еще одним актером в кадре и придать герою неповторимую пластику, голос и другие отличительные черты, чтобы его не воспринимали нарисованной на компьютере куклой. Серкис, повторимся, проделал выдающуюся работу: Голлум стал одним из символов «Властелина колец», взяв на себя основное внимание публики.
Сорвавшаяся номинация на «Оскар» практически никак не отразилась на карьере актера, и вслед за «Властелином колец» он продолжил сниматься во второстепенных ролях не самых сильных картин. Единственным исключением стало участие в культовой ленте Майкла Уинтерботтома «Круглосуточные тусовщики» в перерывах между съемками «Властелина колец». Казалось, роль Голлума так и останется единственным запоминающимся выступлением Серкиса на большом экране, но тут на помощь снова пришел Питер Джексон и предложил актеру еще одну невероятную работу.
Джексон попросил «оживить» великого Кинг-Конга в новой экранизации. И если работа над образом Голлума была более-менее понятна, то как очеловечить существо размером с дом, актер ничего не знал. Хоть огромная обезьяна и не была похожа на щуплого британца, при помощи многочисленных датчиков движения Серкис полностью реанимировал Кинг-Конга, научил его правильно злиться, драться и корчить гримасы. Как потом признавался артист, роль огромной обезьяны не просто далась ему легко (нужно было выучить лишь несколько характерных движений и правильно рычать), но и помогла ему при подготовке к работе в ремейке «Планеты обезьян». Впрочем, за статью и харизмой знаменитой гориллы актер в итоге все-таки немного потерялся, но роль Кинг-Конга все равно можно и нужно считать знаковой. Серкис с Джексоном во второй раз доказали, что мощи самых передовых машин мало, чтобы создать обаятельного и живого компьютерного героя. Нужны реальные актеры.
После «Кинг-Конга» в творчестве Серкиса случилось много всего. Он принял участие в работе над видеоиграми Heavenly Sword и Enslaved: Odyssey to the West, еще раз оживил на большом экране компьютерного персонажа — в «Приключениях Тинтина» Джексона и Спилберга, создал собственную студию спецэффектов Imaginarium Studios, а сейчас готовится сыграть кого-то в седьмом эпизоде «Звездных войн».
За тернистым путем к славе несложно пропустить удивительную трансформацию Серкиса из характерного британского артиста в новатора, уникальную личность в мировом кино. Артист вместе с режиссером Джексоном одними из первых придумали использовать реальных актеров в связке с захватом движений и живой анимацией. И каждый образ, созданный в этом порядке, уже не воспринимался, как аккуратный, красивый, но пластиковый и бездушный спецэффект. Во многом благодаря Серкису режиссеры современных блокбастеров стараются наделять как минимум основных героев харизмой настоящих актеров — так живее и правдоподобнее. В последнее время это превратилось в один из основных трендов киноиндустрии: схожая технология используется, например, в «Аватаре» и «Беовульфе». В то же время подобные трансформации случились и с видеоиграми. В крупных сюжетных блокбастерах, вроде L.A. Noire или The Last of Us, за внешность главных героев отвечают реальные актеры.
Самая главная роль Серкиса, разумеется, проходит за пределами кадра. Его основная заслуга в современной гонке кинотехнологий состоит в том, что британец не обесценил, а наоборот, приумножил вес роли живых актеров на съемочной площадке.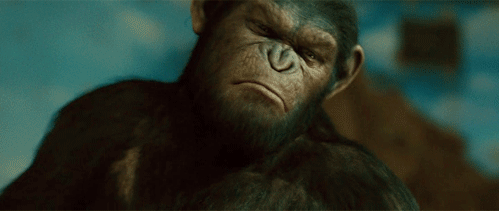 Это заметно по роли Цезаря в новой «Планете обезьян». Если в начале нулевых Голлума в некоторых сценах все-таки выдавала неестественная пластика и мимика, то Цезаря от живой обезьяны отличить сложнее. Более того, в образе примата считывается и сам Серкис, придавая своему персонажу почти человеческую глубину.
Правда, на актерские способности британца журналисты практически не обращают внимания, в основном посвящая каждое интервью технологиям. Серкис не раз признавался, что и готов бы поговорить о психологизме Голлума или мотивации Цезаря, но всех интересуют только пиксели и картинка. Для британского актера, который мечтал играть большие роли в театре, это, конечно, невероятный удар поддых, но он старается не обращать на это внимание. Хотя, если вы посмотрите на Youtube несколько роликов с актером, то поймете, о чем речь. По заявлениям самого Серкиса, он до сих пор ждет судьбоносного интервью, в котором он с радостью и упоением будет рассказывать о внутренних демонах своих героев и, наконец, поведает всю правду о Голлуме и работе над ним.
С момента премьеры «Властелина колец» прошло меньше 15 лет, а Серкиса уже можно назвать ветераном индустрии motion capture. Он одним из первых сумел вписать классическую актерскую игру внутрь спецэффекта. Рано или поздно этот шаг будет отмечен самыми громкими премиями (возможно, тем же «Оскаром»). Хочется верить, что работа британского актера в будущем не обесценится, а голливудские аниматоры и специалисты никогда не вытеснят из кадра настоящих актеров. Но если это и произойдет, то не по вине Серкиса — он-то как раз делал все возможное, чтобы живые артисты никогда не вышли в тираж.