Спустя некоторое время после событий предыдущих «Трансформеров» автоботы скрываются от людей по подворотням и свалкам. Спецслужбы вылавливают последних уцелевших, чтобы специальная корпорация разобрала их на запчасти и собрала собственную армию роботов. Оптимус Прайм в виде наглухо убитого грузовика оказывается в сарае деревенского изобретателя из Техаса, которого немедленно начинает преследовать ЦРУ.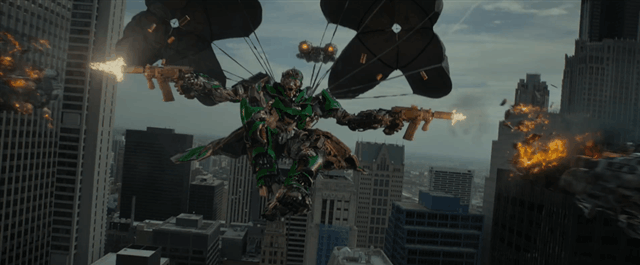 «Эпоха истребления» идет почти три часа. Все это время на экране творится чудовищный грохот и ежесекундная кульминация с зенитом в виде одних огромных роботов, которые скачут верхом на других огромных роботах. Складывается впечатление, что это абсолютная грань фантазии, которую может позволить себе человек, снимая кино по мотивам популярной серии пластиковых игрушек. Спустя пятнадцать минут после старта происходящее начинает критически зашкаливать, и в этом пике, который становится новой нормой, появляется ощущение, будто в фильме вообще ничего не происходит. На фоне общего гвалта изредка возникают сцены, где Майкл Бэй вспоминает, что в его картине есть живые актеры, которым иногда нужно что-нибудь делать. Такие паузы заканчиваются или дракой, или тривиальнейшим диалогом, гвоздем которого оказывается план сквозь ноги главной героини, — и если бы один этот план растянули на весь хронометраж «Эпохи истребления», хуже бы не стало. Здесь еще два нюанса: Никола Пельтц, условно заменившая Меган Фокс — совсем не Меган Фокс. А Марк Уолберг, наоборот, слишком похож на Шайю Лабафа, который попал в ад и теперь вечно играет лучшего друга автоботов.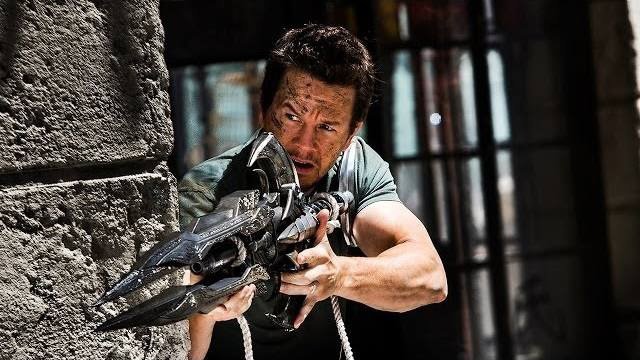 Смотреть «Эпоху истребления» сосредоточенно — тоже трудно, внимание периодически рассеивается. Сложно сфокусироваться на фильме, который представляет собой монолитную конструкцию из разноцветного металлолома, локомотивом несущуюся вам в лицо в течение ста восьмидесяти минут. В итоге прямо по ходу действия можно вообще перестать улавливать логику происходящего, но это нормально. Бэй, очевидно, в курсе: единственный раз, когда будет критически необходимо знать, с чего начался фильм, вам напомнят.
В новых «Трансформерах» мизерное количество деталей, за которые можно было бы зацепиться, и нет ничего такого, чего мы не видели раньше. Разворачивающимся на экране битвам уже не хочется ни сопереживать, ни аплодировать. Стоит одному урагану утихнуть, а зрителю — понадеяться, что сейчас закончится и фильм, как начинается новая буря с какими-нибудь дополнительными подробностями, о которых вы все равно никогда не вспомните. Хочется сказать, что в такие моменты понимаешь, как на определенном этапе некоторым картинам пошел бы переход в формат видеоигр. Но нет: Rise of the Dark Spark, выход которой приурочен к премьере «Эпохи истребления», тоже лучше обойти стороной.
Трансфомеры: Эпоха истребления на экранах с 26 июня.